I'm feeling under the weather today so I decided to make a soup. As I had all the ingredients lying about and they needed to be used soon! So I did a one pot version of my step-grandmother, Tanya Koliada's, borsch. The difference is that Tanya boils the cabbage in stock seperately and then comines it with the rest of the veg in the end.
For my version you will need:
1 medium onion
3 cloves of garlic
1-2 carrots
3 medium sized beet roots
1 tomato – Tanya skins it before use by pouring boiling water over, and then immersing in cold
a quarter head of cabbage – I used pointed cabbage
2 liters of boiling water
3-4 vegetable stock cubes – you can use beef or chicken stock if you want, but I like to keep it vegetarian
Ketchup
Balsamico (my addition)
Worcestershire sauce (my addition)
To serve:
Creme Fraiche / Mayonnaise
Dill
Horse radish
Chop onion and 1 garlic clove.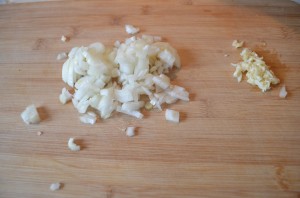 In a pot fry the onion and garlic til soft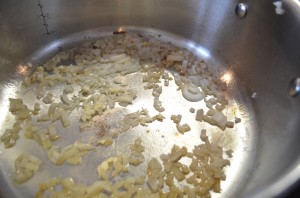 Peel and grate the beets and carrots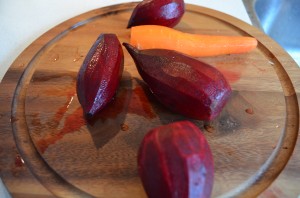 Add the carrot and beet to the pot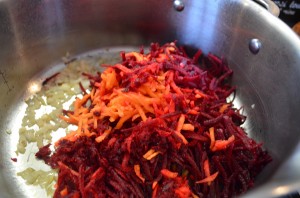 I only had cherry tomatoes so instead of using 1 tomato I used 4 cherry tomatoes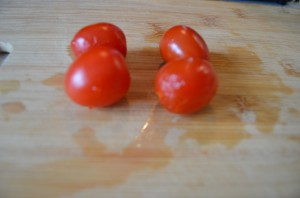 Chop the tomatoes and add them to the pot and then pour the hot water over and add stock cubes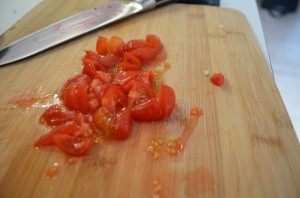 Chop the cabbage in bite-sized pieces. Make sure that they aren't so long that they'll splash onto your face. I use the stalky bit and make sure to chop it finely – in the spirit of not wasting!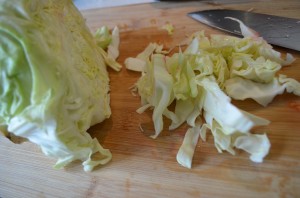 It looks like alot of cabbage, but it will wilt.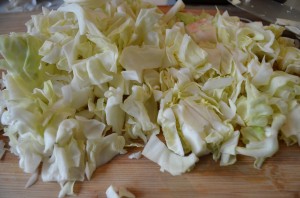 Add the cabbage to the pot and stir it in. Make sure there's enough stock to cover it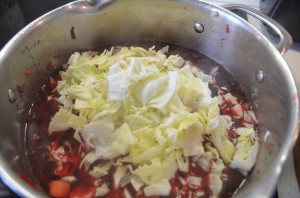 Add salt, pepper, thyme, ketchup, balsamico and worcestershire sauce to taste
The cabbage looks very white in the soup. Leave the soup to boil until the vegetables are soft. When the vegetables are soft the cabbage will have taken on the beet's red colour.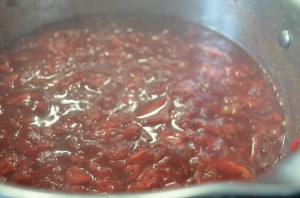 Add the last two cloves of crushed garlic. Stir them in and let them simmer along for 5-10 minutes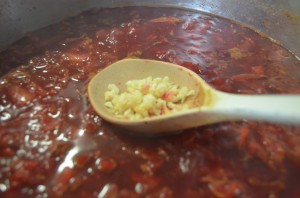 The soup tastes great with nothing but I like to serve it with a big dollop of creme fraiche, some horse radish and lots of fresh or dried dill.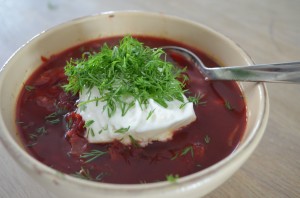 I stir everything in so that it gets this great pink color.