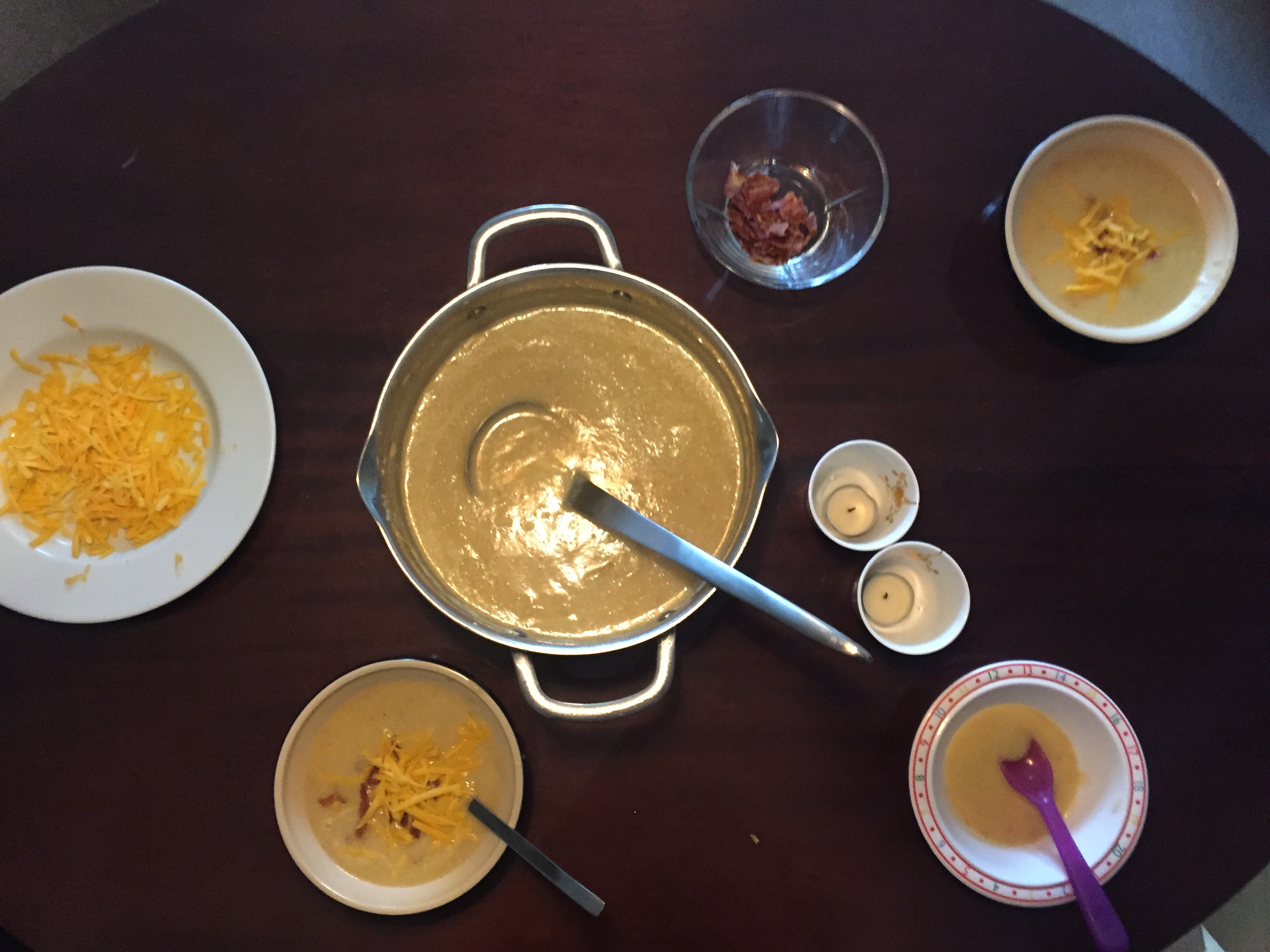 Long live pinterest. My little sister brought us two bags of potatoes and carrots from her parents-in-law's farm and we already had a crap load to begin with. So I did a pinterest search for the things we had on hand: Potatoes, bacon and cheddar and this was one of the things it came up with.
You can see the original recipe here. I did however make some modifications so as to just use the food and kitchen equipment I had on hand. Also I have some suggestions for modifications.
Ingredients:
1 medium large onion cubed (the recipe calls for a small onion, but as it is american I assumed that translates to a medium large european onion)
10 – 15 medium potatoes, cubed and fried or roasted til golden brown
Butter and oil
500 ml chicken stock (I used 2 bouillion cubes)
500 ml milk
2 cups of of grated cheddar
1 pack of bacon crisped up (I suggest doing this in the oven)
Salt and pepper
Method
The coating on our large frying pan had started coming off, and that stuff is poisonous, so we threw it out. I therefore needed to improvise with the frying. I wanted to fry the bacon in the pot used for the soup, but it stuck really badly to the bottom. So I chose to do the bacon in the oven and fry the potatoes in my only frying pan, which is kinda small and I had to do it in batches, which was a pain and took forever.
I suggest roasting the potatoes the oven in oil and butter at a high temperature until they are golden brown (maybe 45 mins) flipping them half way. Or foregoing this step entirely. The original recipe says the soup tastes more potato-ey from the frying, but I'm sure it'll be yummy either way.
As the bacon had burnt on my pot, I used it to dissolve the bouillion and to loosen the bacon so as not to waste it.
Fry onions in oil with a bit of salt until soft. The salt draws out the water making the process faster
Add the potatoes
Add broth, milk, half of the bacon or less and cheese – reserve some to sprinkle over when you serve, if you like that – Basse preferred not to sprinkle over
Allow to simmer for 20-30 minutes
Purée with a hand blender and let it warm up
Serve up with bacon and cheese on!