I'm quite late out with this pattern, but I guess it can be used next year.
I started out using the pattern I found here, however she uses a hook size 5.5 mm, and I only had yarn size 4.0 mm, also I like using smaller hook sizes for things for the baby, I find that the smaller stitches make it look more delicate. So I ended up with a tiny itty bitty hat and I had to freestyle the rest of the way. I, however, did make one more santa's hat for Viggo's cousin, where I followed my own pattern, which basically works for any hook size or any size head. See it below the image.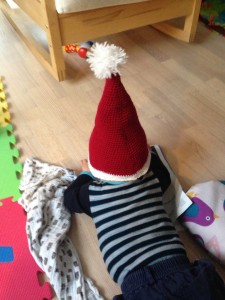 In red yarn:Round 1: make a magic ring and stich 6 SC in it
Round 2: 1 sc in each stitch
Round 3: Work 2 sc in every stitch
Round 4: 1 sc in each stitch
Round 5: 2 sc in every 2nd stitch
Round 6: 1 sc in each stitch
Round 7: 2 sc in every 3rd stitch
Then just continue like this, increasing in odd number rounds with one more stitch in between the increases and sc in every stitch in even numbered rounds, until the hat fits the head needed. Then finish off by changing yarn color to white and working one sc in each stitch for about 4 rounds or as many as you think looks nice.
Sew a tassle on the top. I think the easiest way is just to wrap the yarn around 3-4 fingers 50 or so times, then tying them together with another piece of yarn and then cutting all the loops and cutting any strands that are longer, till you get a nice round shape.