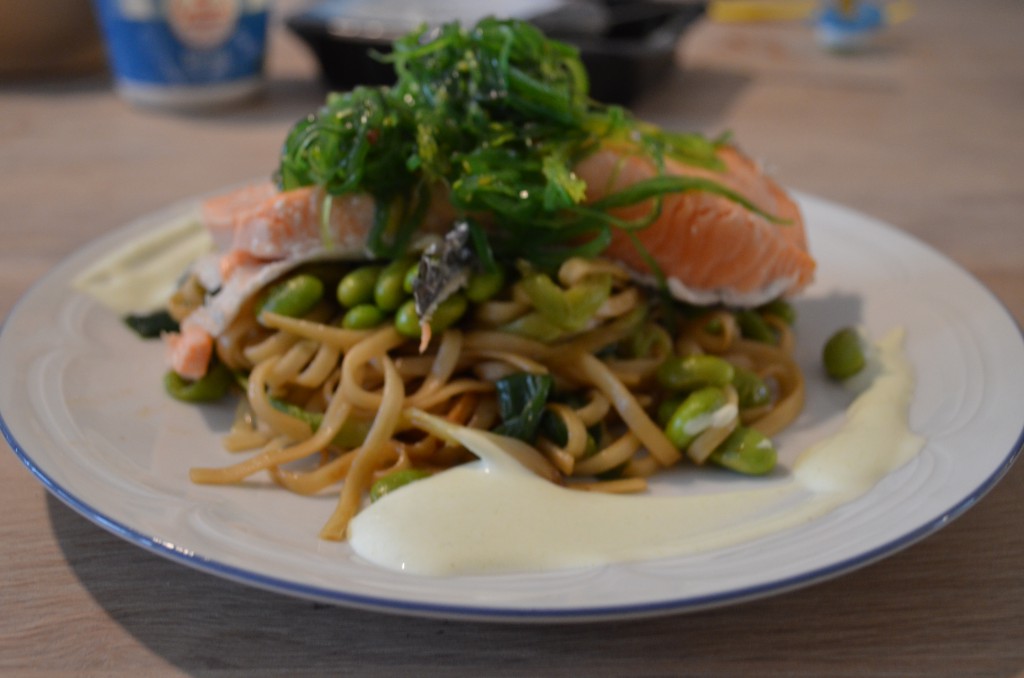 I love this dish. It is inspired by a starter I had at Prags Grill and Steakhouse once. I like to plate food on top of eachother because it looks less greedy plus: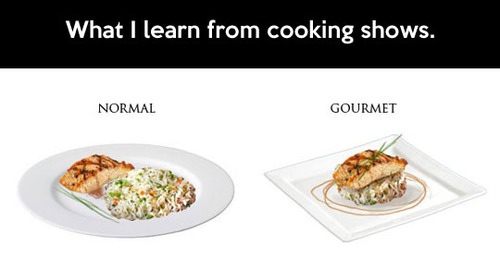 Fried noodles:
200-250 grams eggnoodles
100 grams mukimama sojabeans (shelled edamame beans) I get them frozen
1 bunch of spring onions.
a few splashes of soya sauce
a couple of splashes of fish sauce
0,5 – 1 tablespoons of grated ginger
Rinse spring onions and cut off the tops and tails and leave whole. Boil them for 3-5 minutes until they are tender and have wilted. Take them out of the heat and let them dry a bit then fry them in a large frying pan over medium to high heat with some butter for 3-4 minutes, until they go slightly golden brown .
In the water you boiled your spring onions boil the noodles. Boil them a minute or so less than what the packet suggests.
When they're done strain the noodles and bung them straight in with the spring onions and turn the heat down and add the soya, ginger and fish sauce.
Add the frozen mukimame beans and when they're heated through, the dish is ready.
Wasabi dressing
4 tablespoons of creme fraiche
1 tsp wasabi – add this to taste but start with a little at a time, as you don't want to burn off your nose
a small drizzle of cream
a small squeeze of lemon – maybe 2 teaspoons
Mix the ingredients and add more of the other ingredients to taste if needed.
For the fish
It doesn't really matter how you do the fish. I normally bake it in an oven at 200c for 10-12 minutes, just becuase that way I can focus on the noodle salad.
Some might find that it's a little too raw for their taste that way – but I think it should be rare and silky in the center.
Also I don't normally bother to crisp up the skin. Just to avoid taking the time and the fish smell that overtakes the house often when I crisp up the skin.