Tonight I concocted this awesome salad. It is inspired in part by a dish I ate at the vietnamese restaurant Lêlê street kitchen the other night, and in part by Nigella Lawson's Anglo-Asian lamb salad. You can definitely switch out some of the ingredients, try with chicken or beef instead for example, but my advice is not to leave out the mint!!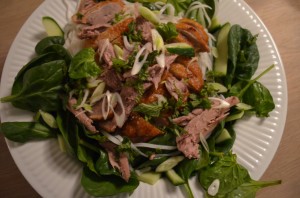 Salad (for 2):
– 1 large handfuls leafy veg per person (I used spinach)
– 0,5 organic cucumber
– 1,5-2 spring onions
– 2 duck breasts
– 1 packet of rice noodles
– a couple of sprigs of mint
Salad dressing
I honestly have no idea of what the measurements are so they are estimated guesses. Do taste and adjust as you go.
0,5 tsp sriracha chili sauce
2 tbsp hoi sin sauce
2 tbsp red currant jelly
1 tsp soya sauce
Juice of 0,25 lemon (I would've used lime if I had it)
tweek with some vinegar if you want more acidity
2 tbsp neutral oil – I used rapeseed oil
2 tbsp water or until it gets the right consistency
Any juices from the meat
Method:
1. Prepare the duck. For help on that look here.
2. While the duck is cooking prepare the salad: Rinse the salad leaves. Cut the cucumber into sticks that are about 0,5cm x 1,5 cm. Take the outer leaves off the spring onion and cut any dull tips off, leave it whole otherwise. Chop the spring onions finely and at an angle. Take the leaves off the sprigs of mint and chop finely. Leave some of the spring onions and some mint to sprinkle over in the end, but other than that toss the salad leaves, cucumber, spring onion and mint.
3. Prepare the rice noodles according to the packet and put on top of the salad.
4. Whisk all the ingredients for the dressing together.
5. When the duck is ready cut it into fine slices or strips and drape over the noodles and salad.
6. Either drizzle the dressing ov
er the salad or serve it on the side and let peope drizzle it over for themselves.