So christmas came and went, and I was so frazzled that I totally forgot that I wanted to take pictures of all the gifts I made!! But I can make a post about it anyway.
Cranberry Vodka
Homemade cranberry vodka! I made it one year, and since then it has been requested by the recipients. The recipe, from BBC GoodFood's homepage, simple and requires only 3 ingredients, but it really is heart warming and delicious.I have made it with other berries and fruits – for sweeter fruits, I put less sugar in. I have, with great success, made it with rhubarb, red currant and mixed forest berries.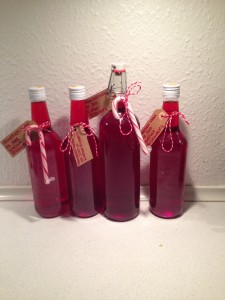 Crocheted scarf
I made this for my brother. I used some yarn I had lying about and wanted to get rid of! It was rather simlple, I chained until I had a nice width for the scarf and then single crocheted back and forth, turning with 1 chain. When I ran out of gray yarn I changed to turqouise and crocheted back and forth until the turquouise was about a fourth of length of the grey, then I repeated on the other side of the scarf. Then I changed to a mint green and repeated. I finished of with a slip stich and sewed in the tail.
Sorry I don't have a better pic:

Crocheted fruit and veg
I made this for my nephew. Sadly I have none of my own pictures of it, but there are pictures on the page, I got the pattern from: Drops Design!
Homemade bath salts
I loosely followed a recipe for bathsalts I found here. I left out the food colouring, which I found redundant! And for my older sister, who is allergy prone, I infused the salt with clementine, orange and lemon rind, so I could use less store bought essential oil. I used orange essential oil, and added some thyme too.
Homemade bodyscrub
Keeping in tune with the holiday, I made a candycane body scrub. And using some of the ingredients for the citrusy bath salts, I made an orange and coconut body scrub. I loosely followed this recipe, substituting most of the citrus rind with essential oil. I also varied the amount of oil, in search of a good consistency.
Next time I'll take pictures!!!