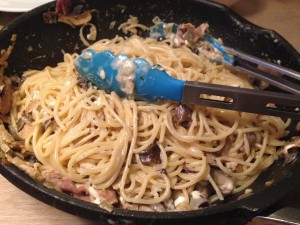 I am a broke-ass food enthusiast… not things that always go so well together.. But sometimes they do! It forces me to think up ways to use stuff in my store cupboard and fridge and become creative!
500 g spaghetti – cooked according to the packet. Save some of the pasta water.
1 onion, chopped
1 pack of dried forest mushrooms – rehydrated according to the packet
0,5- 1 pack of parma ham
The rest of the cream I had, about 1dl …I would have used just cream, but I didn't have anymore, so I had to get extra creative:
The rest of the creme fraiche I had – about 2-3 tbsp
1- 2 tbsp cottage cheese (I told you I had to get creative!)
1-2 handfuls of grated parmasan
dried thyme
Truffel oil
On a hot frying pan fry the mushrooms for a few minutes. Turn down the heat and add the onions. Fry til they are soft. Add thyme. Add cream and let it reduce a bit.
Add the creme fraiche and cottage cheese and allow to get warm all the way through.
Add the parma ham and then the pasta. Add some of the pasta water for creamier consistency.
Take the pasta of the heat and drizzle truffel oil if you have it lying about, to kick it up to luxury level, stir it in and grate loads of parmasan cheese over to serve!