I wish my food pictures turned out better. It could be worse, they could turn out like Martha Stewart's
Here's a recipe with a photo that didn't turn out terribly!! The recipe is for 2 people.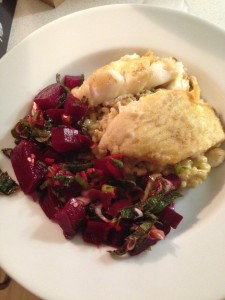 For the beetroot salsa (from GoodFood):
2 small beetroots, cooked and diced
2-4 spring onions, chopped on an angle – I use the green bit of the spring onions too
1 chopped onion
1-2 tblsp chopped mint
Juice of 1 lemon – you can use less and then add more to taste
3 tablespoons of lemon
Mix all ingredients, and leave for a while for the flavours to infuse.
Panfried fish:
2 flounder fillets – you could use any white fish, flounder is good becuase it is firm, which means it doesn't crumble when you try to flip it on the frying pan
Flour
Salt and pepper
Butter and vegetable oil
Add salt and pepper to the flour and dust the fish so it's lightly covered. Heat a little bit of butter and vegetable oil in a frying pan at a medium-high heat. 3-4 minutes on each side so it gets nicely golden brown and cooked with out being dry.
Cheesy pearl barley:
3 dl Pearl barley
5 dl Vegetable stock
Cheese to taste
I don't remember exactly how much barley I used, but follow the instructions on the packet. I cooked the barley in stock instead of plain water. Remember you can always add more fluid – I sometimes do it sort of like risotto where I add the fluid a little at a time. The barley takes about 30 minutes to cook. When it is done and nicely al dente add the cheeses and stir to melt them in. We used the scraps we had left of grated cheddar, danablu and grated parmasan.