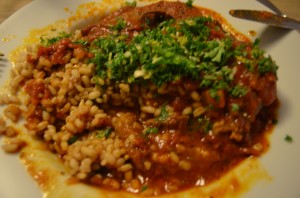 I found osso buco on sale at the supermarket. If you have a couple of hours to hang around near the pot (or a slow cooker / pressure cooker) this is a great crowd pleaser. You can always make it in advance and reheat it – which makes it taste even better as the flavours develop. I often make it when I have guests who are notorious for coming late as simmering half an hour extra on the stove won't harm it.
Osso buco ragu
4 pieces of osso buco (veal shank)
3-4 tablespoons of flour
1 large chopped onion
2-3 carrots, grated or diced
a quarter celeriac, grated or diced
4 cloves of minced garlic
70-100 g tomato puree
2-3 cans of tomatoes – I actually buy the little boxes, they don't have that metallic side taste, they take up less space in the garbage and they are healthier.
1 star anise
Loads of thyme
Any other aromatic herb you might like e.g. oregano, rosmary, basil. You can bind them in a bundle if they are fresh so they don't leave any gunky brown blobs.
A good slosh of wine (red or white – whatever you feel you can spare, note that red gives a great, rich color)
0,5-1 l of water or beef stock
Gremolata

A handful of parsley, cleaned and chopped
3-4 cloves of garlic grated or finely chopped
Zest of 1-2 lemons – grated
Method
Heat a large pot over high heat. Put flour in a plastic bag and season well with salt and pepper. Throw the osso buco in and coat them. Add a generous slosh of oil to the pot and fry the osso buco until brown and remove – They do not need to be cooked, you just want to brown them.
Turn the heat down to low to medium, add a bit of oil if necessary, throw the onions in and add about 0,5-1 dl of water – this will cool the pot so the onion doesn't burn, and it helps soften the onion.
When the onion os soft add the carrot, celeriac and garlic and fry for a few minutes.
Add the wine and let the pot deglaze. Add the tomatoe puree and stir letting it roast and caramellize a bit.
Add the tomatoes and herbs, and stir.
Pop the shanks back in the pot – I like to sort of nestle them into the tomoato sauce, then pour the water or stock over until the shanks are covered.
Leave to simmer for 2-3 hours.
To make the gremolada just mix the ingredients together.
Normally I serve this with mashed potatoes, but this time I used pearl barly, boiled in vegetable stock. Sprinkle the gremolata over when you serve.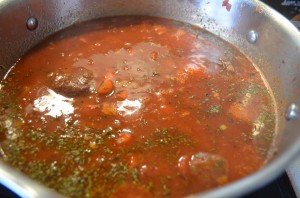 The ragu looks a bit soupy to begin with, like the photo above, but it thickens up and becomes sort of stew-y, like in the photo below.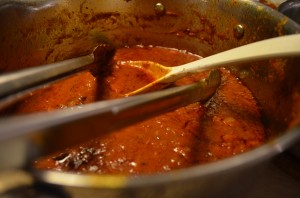 Tip: When we had eaten up there was a lot of the tomato sauce left. I kept it and froze it, later I used it in a bolognese, which was the most delish bolo I have ever had!!